Setting up our PPTP VPN service on Windows 8 should take 5 minutes with these step-by-step instructions.
In order to connect to our VPN servers, you will need to know your username and password that you registered with. These instructions and the example screenshots are for connecting to our UK service and have been verified against Windows 8, Step 7 contains details of how to connect to our servers in other countries, i.e. the US.
Not yet registered? It's quick and easy, give our 3-Day Free Trial a try now!
Make sure your system is connected to the internet
Make sure your system is connected to the internet and that you are able to browse the web. To check your location, please go to our IP Info page, or alternatively go to our homepage and scroll down to this section: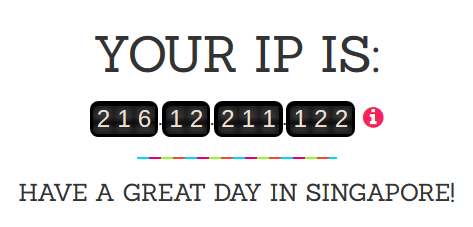 This shows the IP Address and country that you are currently connecting from, in this example, the user is connecting from Singapore.
---
Setup a New Connection
Open up the Search window by pressing (Win+W) keys and search for VPN.
Select Set up a virtual private network (VPN) connection.

---
Enter the VPN Details
You now need to enter the VPN details.
In Internet address, enter GBR.mypn.co for our GBR service, if you wish to connect to a different country, please refer to our complete list of servers.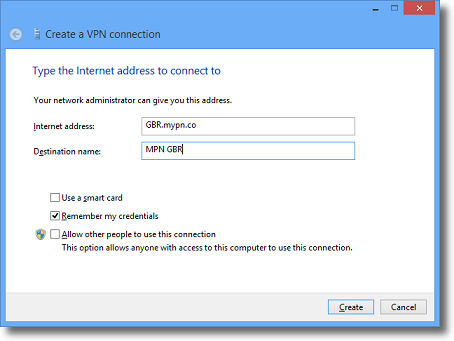 For the destination name, you can enter anything you like, however, we suggest you keep it simple and choose MPN GBR for the GBR service or something similar for whichever country you are connecting to.
Click Create.
---
Change connection properties
You'll be returned to the desktop again, click your network icon at the bottom right corner.
Right click on the MPN GBR connection and choose View connection properties.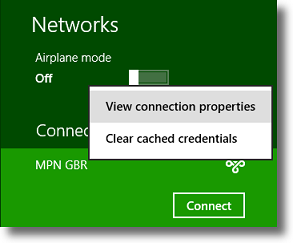 The properties window will be displayed. Click on the Security tab and change the Type of  VPN from Automatic to Point to Point Tunneling Protocol (PPTP) and click OK.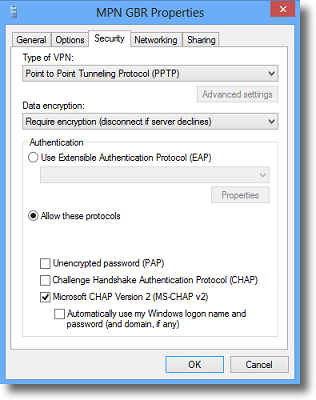 ---
Connect to our servers
Click on the MPN GBR connection again and Connect.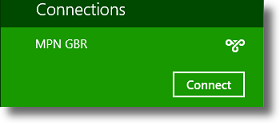 It will now prompt you to enter your MPN credentials. Enter them and click OK.
---
Connected
The VPN will now attempt to connect to our servers.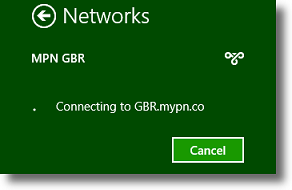 If successful, the VPN status will change to Connected.

If you now browse our homepage or check your IP address again from the IP Info page, your location should show that you are now in the UK (or which ever country you have connected to).
Note: The server IP address and country name will vary depending on the server or country you are connected to.
---
Change something?
If you entered the wrong username and password or you want to change the servername, simply right click on the MPN connection and choose the appropriate option.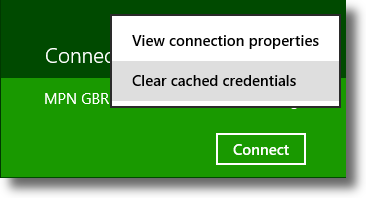 If you want to connect to any of our other servers, ie our USA servers, simply change the server name, please refer to our complete list of servers.
---
Any problems?
Unfortunately it doesn't always go to plan!
If you have any problems or can't get connected, please email us at This e-mail address is being protected from spambots. You need JavaScript enabled to view it
. We'll get back to you as soon as possible and try to help.