You may have noticed a new tab on your client page for My Private Network labeled "Refer a Friend". That's right! We now have a referral program!
How to Refer a Friend
This is probably one of the easiest referral programs you will ever come across. No complicated links, no tracking, just your word. It's as simple as this: if you have a friend sign up because of you, just let us know and once we confirm that they are a registered user, we'll hook you up with a free month of service!

Once your friend has signed up and used our service for over a month, just simply click on the "Refer a Friend" tab and click on the link to fill out the referral form.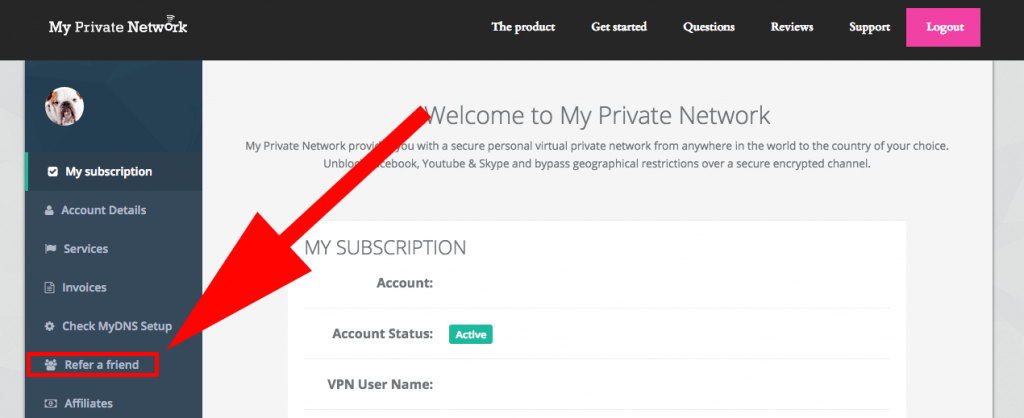 The referral form will ask some basic questions about your referral. Email address, when they started, etc. We will then go in and check our system to see if they have indeed signed up with us and have been with us over a month. We require for them to stay for over a month just in case they decide they don't like the service and we will, of course, hook them up with a refund.
Not using MPN yet?
Want to take advantage of our referral program but don't have a subscription to My Private Network yet? Get started with us today and if you don't like the service, we will give you your money back.
*3 DAY FREE TRIAL – NO CREDIT CARD REQUIRED
Any questions about our new referral program? We have an awesome support team waiting to answer any questions! Feel free to comment below, email, tweet, or hit us up on Facebook!
---
Related Posts
Setting up your Android device to connect to My Private Network is made much simpler now […]