Setting up your Tomato router to connect to My Private Network VPN service is straight forward with these simple step-by-step instructions.
The instruction below is done on Sabai router version 6.06, therefore the steps might differ for other versions of Sabai routers. Before proceeding with the steps below, please ensure that you are able to access the Internet via the router.
Not yet registered? It's quick and easy, give our 3-Day Free Trial a try now!
---
Getting Started
You will presumably have the WAN or Internet port of the Sabai router connected to the LAN or Local port of your primary router.
You might want to configure the wireless network of the Sabai router to be something with VPN Country in the name i.e. MPN GBR, MPN USA so you can tell which is which, but all of that is up to you.
You're required to download our OpenVPN script for Sabai routers in our link below as well:
---
Uploading the Script
Click on Network followed by OpenVPN found at the left side panel.
You will be directed to the OpenVPN Setup page. Kindly click on Choose File and select the Sabai OpenVPN Script that you've downloaded earlier.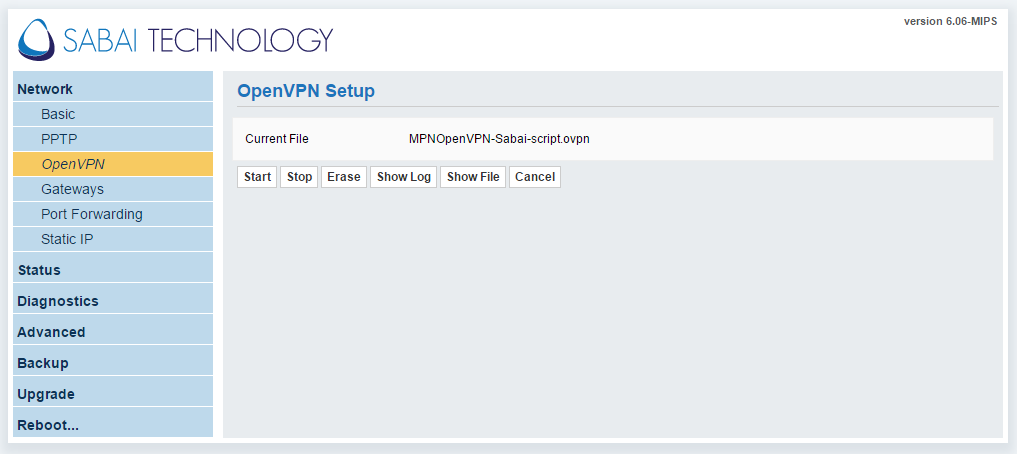 ---
Setting up the OpenVPN script
Click on Show File followed by Edit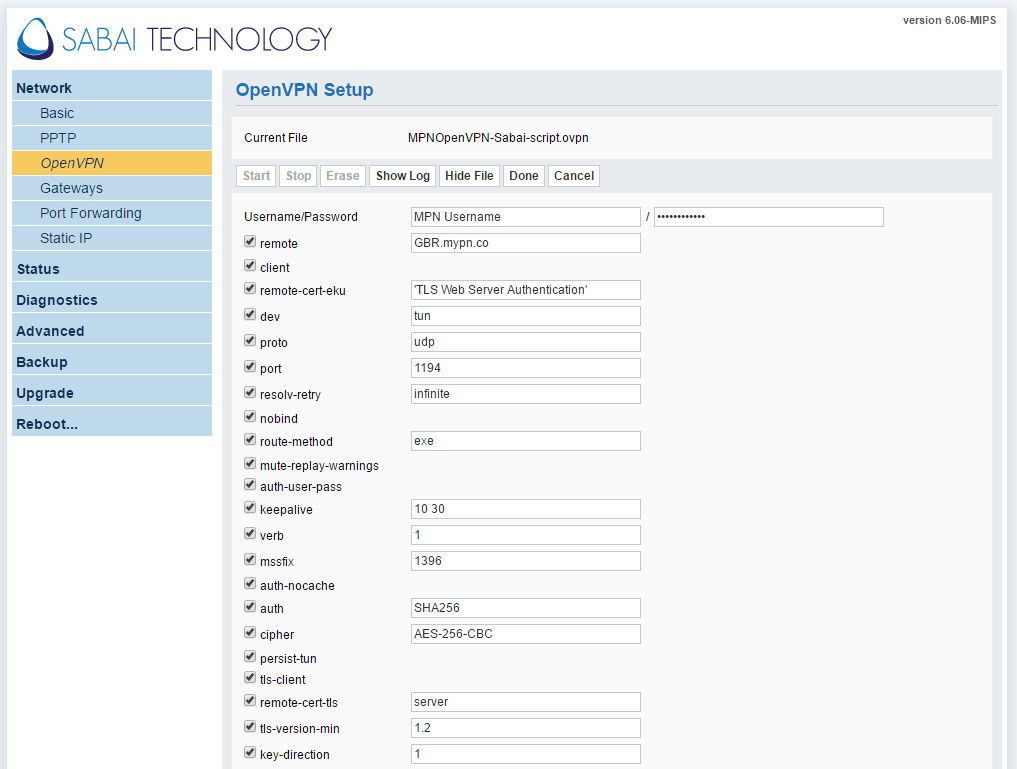 Kindly ensure that you've made the changes as below:
Username/Password : Enter your registered My Private Network Username and Password
Remote:  GBR.mypn.co
Note: The above server name is if you wish to connect to our UK (GBR) service. If you wish to connect to any of our other servers, i.e. our USA servers, all you need to do is change the server name on the remote field.
For a detailed list of server names and countries you can connect to, please refer to our knowledge base article below:
Which Countries Can I Connect To?
Every other fields should be automatically filled in. Once you've made the changes as above, click on Done.
---
Connecting to our servers
Click on Start to connect to our VPN servers.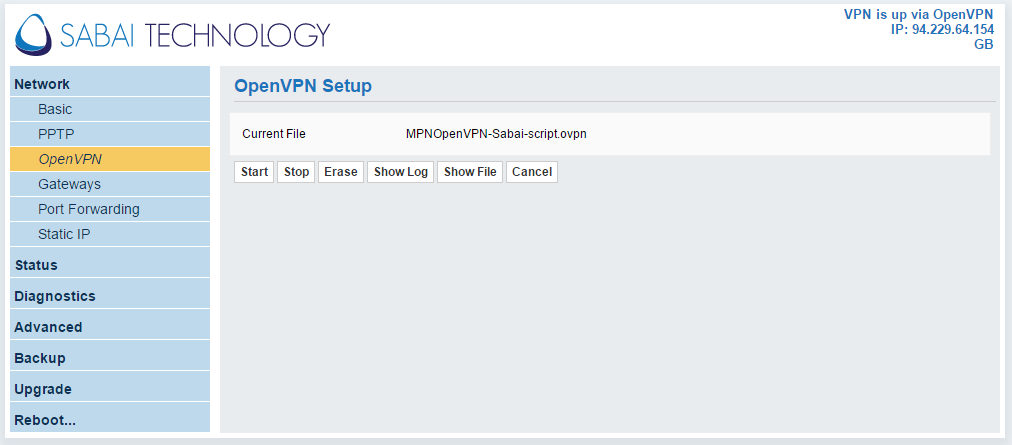 To confirm if you are indeed connected and getting our VPN IP address, open your browser and head on to My Private Network IP Info page to check your IP address.
The router setup page will also indicate the IP address that you've got on the top right corner.
---
Any Problems?
Unfortunately it doesn't always go to plan!
Kindly give this a try and if you're unable to connect, please click on Show Log and let us know the contents of the log files by contacting our technical support team at This e-mail address is being protected from spambots. You need JavaScript enabled to view it
. We'll get back to you as soon as possible and try to help.