Microsoft latest Operating System, Windows 10 has a number of major improvements and differences compared to previous versions of Windows, but some things are still the same.
In order to connect to our VPN servers, you will need to know your username and password that you registered with. These instructions and the example screenshots are for connecting to our GBR (UK) service and have been verified against the full version of Windows 10, Step 12 contains details of how to connect to our servers in other countries, i.e. USA, Australia, Germany etc.
Not yet registered? It's quick and easy, give our 3-Day Free Trial a try now!
Video Tutorial
The video below will guide you on how to set up your Windows 10 computer with our OpenVPN SSL service.
Alternatively, you can follow the step by step written instructions below.
---
Make sure your system is connected to the internet
Make sure your system is connected to the internet and that you are able to browse the web. To check your location, please go to our IP Info page, or alternatively go to our homepage and scroll down to this section: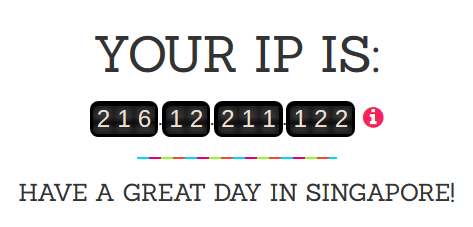 This shows the IP Address and country that you are currently connecting from, in this example, the user is connecting from Singapore.
---
Download the OpenVPN Installer
First of all, please download the OpenVPN installer from the link(s) below:
32-Bit computer | MPN SSL OpenVPN Download
64-Bit computer | MPN SSL OpenVPN Download
Note: The actual file name might change slightly as we update our software. The terms 32-bit and 64-bit refer to the way a computer's processor (also called a CPU), handles information. If you're not sure which CPU your computer is on, select the 32-bit installer.
When you see the security warning, select Run, or alternatively, save the file and once it has downloaded, click on it to install.

If User Account Control is enabled, you might see a warning, click on Yes to continue.
---
Install the software
At the welcome screen, click Next.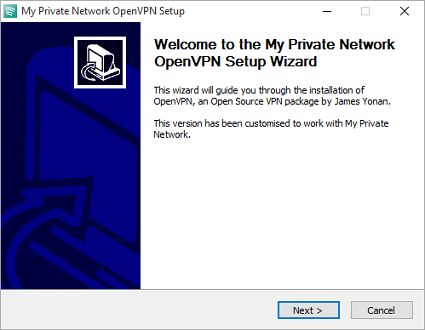 and then agree to the license terms.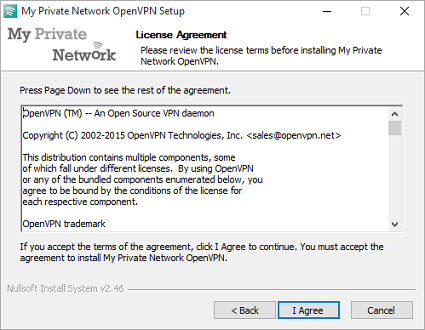 ---
Choose which countries to install
The next window allows you to choose which country files you wish to install.
If you have a single country subscription, i.e. just the USA, uncheck the other countries and only the USA connection will be installed.
If you have subscribed to our Global plan, then you can choose to install the configuration files for whichever countries you wish to connect to.
Note, regardless of which files you install here, you must have an active subscription for the country that you wish to connect to, our Global subscription.
In this example, we will accept the default to install the GBR and USA connections and click on Next to continue.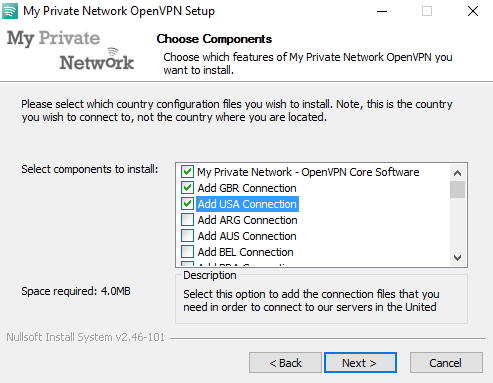 ---
Select the connection protocol
Select the connection protocol to install. By default, the connection will use UDP Port 1194 so if you are not sure, just leave it as it is and click on Next.
---
Enter your username and password
You now need to enter the Username and Password that you registered with on our web site when you subscribed to our service.
Enter your details and click on Next.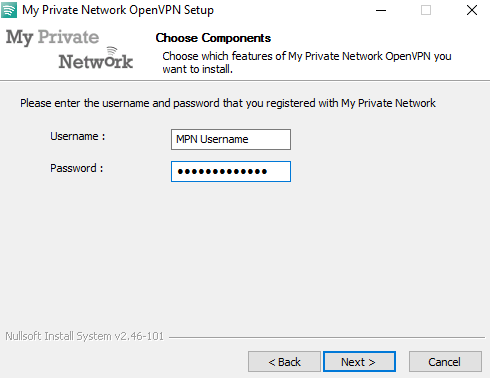 ---
Choose installation directory
If you want, you can specify the directory where our software is installed, we recommend that you leave this as default and click on Install to proceed.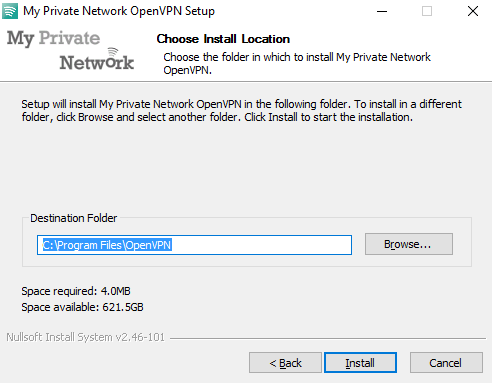 ---
Accept the VPN driver
Windows will now install the OpenVPN software. You will be prompted to install the TAP-Win32 Adapter, this bit of software is required to connect to us and you must install it, so click on Install to continue.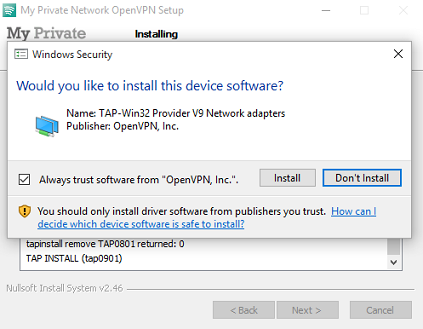 ---
Installation Complete
Once the installation has finished, click Next to continue.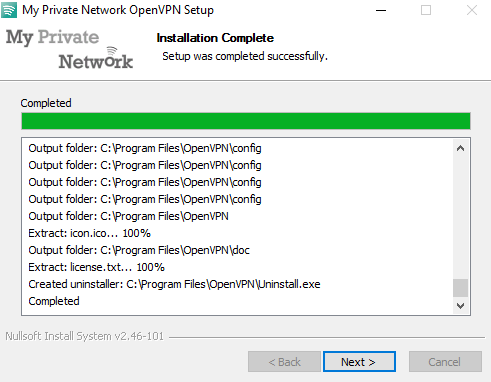 On the final page, leave Start the My Private Network Service selected and click on Finish, this will automatically start the service for you.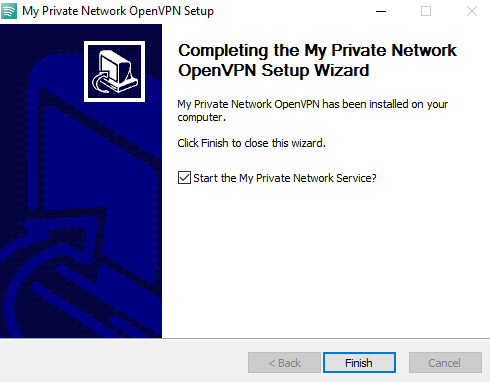 The installation is now complete, and the service should have started automatically. You should be able to see the MPN icon in the task bar at the bottom right hand corner of the screen. As you are not yet connected, the icon will be Red.

---
Connect to our servers
The VPN setup is now complete, but you are still not connected to us.
To connect, right click on the red icon and choose the country that you wish to connect to, in this case, we will choose MPN GBR for the connection to the UK, and then click Connect.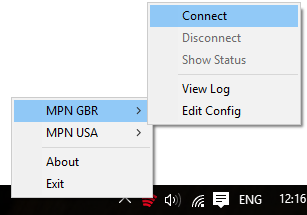 The icon will turn yellow whilst connecting and the connection window will be displayed.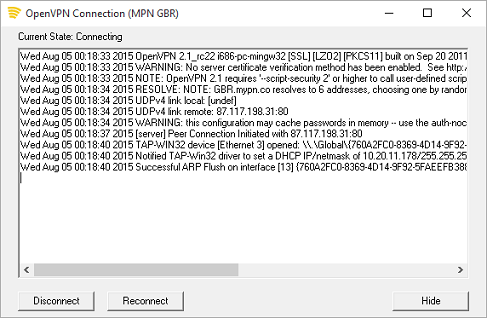 Once connected, the connection window will close and the icon will turn green and you will see a message saying that the service is now connected.

---
Check your IP Address
If you now browse our homepage or check your IP address again from the IP Info page, your location should show that you are now in the UK (or which ever country you have connected to).
That's it! You are now connected. All your internet traffic will now be transmitted securely via our VPN servers in the country of your choosing.
---
Change something?
If you entered the wrong username and password, or if you want to add any additional country configuration files or remove existing ones, you can use our re-configuration tool.
Search for the Configuration tool by pressing the (Win+Q) keys, and type in MPN and select Reconfigure MPN.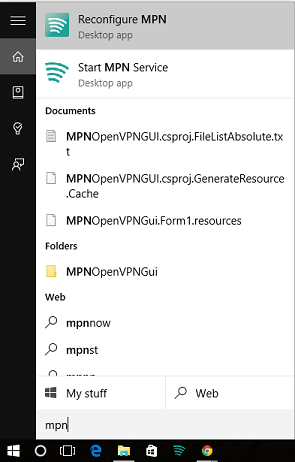 Once the Configuration Tool appears, select your preferred options and click on Next.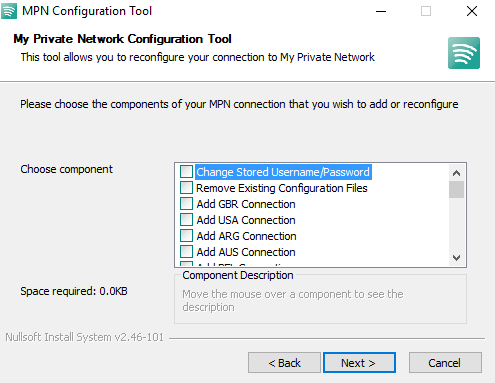 If required, enter your user details again and click on Install.
Finally click on Close and your requested changes will have been made.
---
Re-Starting the service
The MPN Service is automatically started at the end of the installation, but next time your switch on your computer you will need to start it manually.
To do this, double click on the Start MPN Service icon on the desktop or alternatively search for MPN and choose the Start MPN Service option.

Once the service is running, you will see the Red VPN icon in the task bar again and you can right click on it to connect, as shown in Step 10.

---
Any problems?
Unfortunately it doesn't always go to plan!
If you have any problems or can't get connected, please email us atThis e-mail address is being protected from spambots. You need JavaScript enabled to view it. We'll get back to you as soon as possible and try to help.