Let's not lie to ourselves, we've all probably looked at porn sometime or another, and maybe more than we would like to admit! But many of us don't even think of using a VPN when browsing the internet for some adult fun.





Aren't using a VPN yet? Here is why you might want to reconsider when watching porn:
What is a VPN?
For those of you who don't know, a VPN is a Virtual Private Network. Basically you're hiding your computer or device from eyes on the internet. Once connected to a VPN, websites can't track you nor know who you are. Aside from watching porn, there are endless benefits of using a VPN while connecting to the internet.
Browsing Porn Safely and Privately
Accessing a porn site on your computer with no security measures is a rookie move. Once you hit that site, they can see your IP address, location, and other information about you that you probably wouldn't want them to have. If you are not using an "incognito" window, your browser will even store your history of going to these websites – you might see your browser suggesting some embarrassing sites in front of people you would rather not share that information with! However, if you use a VPN, your IP address is going to be masked, your traffic will be encrypted, and no one will know what site you have accessed while on the VPN. And if there's no evidence, then it never happened, right?
Legality and Availability of Porn by Country
Country
Watching Porn Online
Legal Porn Consumption Age
Porn Sites Availability
Americas
Argentina
Legal
18+
Available
Brazil
Legal
18+
Available
Canada
Legal
18+ and 19+
Available
Chile
Legal
18+
Available
Colombia
Legal
18+
Available
Cuba
Illegal
Illegal
Blocked
Ecuador
Legal
18+
Available
Jamaica
Legal
18+
Available
Mexico
Legal
18+
Available
Paraguay
Legal
18+
Available
Peru
Legal
18+
Available
Trinidad & Tobago
Illegal
Illegal
Blocked
United States
Legal
18+
Available
Venezuela
Legal
18+
Blocked
Europe
Austria
Legal
16+ and 18+
Available
Belarus
Illegal
Illegal
Blocked
Belgium
Legal
Unknown
Available
Bulgaria
Illegal
Illegal
Blocked
Croatia
Legal
18+
Available
Cyprus
Legal
18+
Available
Czech Republic
Legal
Unknown
Available
Denmark
Legal
18+
Available
Estonia
Legal
Unknown
Available
Finland
Legal
15+ and 18+
Available
France
Legal
Unknown
Available
Germany
Legal
Unknown
Available
Greece
Legal
18+
Available
Hungary
Legal
18+
Available
Iceland
Illegal
Illegal
Blocked
Ireland
Legal
Unknown
Available
Italy
Legal
Unknown
Available
Latvia
Legal
Unknown
Available
Lithuania
Illegal
Illegal
Blocked
Malta
Legal
Unknown
Available
Netherlands
Legal
16+
Available
Norway
Legal
Unknown
Available
Poland
Legal
15+
Available
Portugal
Legal
18+
Available
Romania
Legal
18+
Available
Russia
Legal
Unknown
Available
Serbia
Legal
18+
Available
Spain
Legal
Unknown
Available
Sweden
Legal
No Laws
Available
Switzerland
Legal
16+
Available
Turkey
Legal
Unknown
Blocked
Ukraine
Illegal
Illegal
Blocked
United Kingdom
Legal
18+
Available
Africa
Algeria
Illegal
Illegal
Blocked
Botswana
Illegal
Illegal
Blocked
Egypt
Illegal
Illegal
Blocked
Ethiopia
Illegal
Illegal
Blocked
Ghana
Illegal
Illegal
Blocked
Kenya
Illegal
Illegal
Blocked
Morocco
Illegal
Illegal
Available
Nigeria
Legal
Unknown
Blocked
South Africa
Legal
18+
Blocked
Sudan
Illegal
Illegal
Blocked
Tanzania
Illegal
Illegal
Blocked
Tunisia
Illegal
Illegal
Blocked
Uganda
Illegal
Illegal
Blocked
Zambia
Illegal
Illegal
Blocked
Asia
Bangladesh
Illegal
Illegal
Blocked
China
Legal
Unknown
Blocked
Hong Kong
Legal
18+
Available
India
Legal
18+
Available
Indonesia
Illegal
Illegal
Blocked
Japan
Legal
18+
Available
Kuwait
Illegal
Illegal
Blocked
Lebanon
Legal
Unknown
Blocked
Malaysia
Partially Legal
Unknown
Blocked
Myanmar
Illegal
Illegal
Blocked
Nepal
Illegal
Illegal
Blocked
North Korea
Illegal
Illegal
Blocked
Pakistan
Illegal
Illegal
Blocked
Philippines
Illegal
Unknown
Blocked
South Korea
Legal
19+
Available
Sri Lanka
Illegal
Illegal
Blocked
Saudi Arabia
Illegal
Illegal
Blocked
Singapore
Partially Legal
Unknown
Available
Syria
Illegal
Illegal
Blocked
Thailand
Illegal
Illegal
Blocked
Turkmenistan
Illegal
Illegal
Blocked
Oceania
Australia
Legal
18+
Available
New Zealand
Legal
18+
Available
Papua New Guinea
Illegal
Illegal
Blocked
Disclaimer: Whilst we do not condone breaking the law in any way, there are certain countries where it is perfectly legal to stream porn online but has been blocked by the government due to the sensitive nature of the site. More over, the laws surrounding ownership and consumption of pornographic materials are not perfectly clear in most countries, which also leads to further confusion when it comes to simply "watching/streaming" porn online from legal websites.
Legal to Watch Porn Online or not?
From our research, there are many countries where the ownership and consumption of porn is completely legal such as in the U.S, U.K, India, France, and many more. However, there are also equally as many countries where any obscene material owned, consumed, or even watched is against the law. Having said that, the issue with these laws is that most of the time, it's never enforced. At the moment, it seems that nations around the world are more adamant on persecuting child pornography, which we're glad to say that almost all countries have strict laws against and heavy punishment for those participating in these disgusting acts.

So what does that say about simply "watching or streaming" porn online? Well consider this insight below from PornHub itself. It shows the Top 20 countries by traffic that have visited PornHub in 2017. You'll notice that many of the traffic sources are from countries where porn is generally legal in most sense. However, take a closer look at Philippines which is ranked 13th despite it's illegal status according to the law there. More over, the biggest rank changes to the upside are from countries like Ethiopia, Sri Lanka, and Pakistan even though these countries have pretty much banned porn altogether.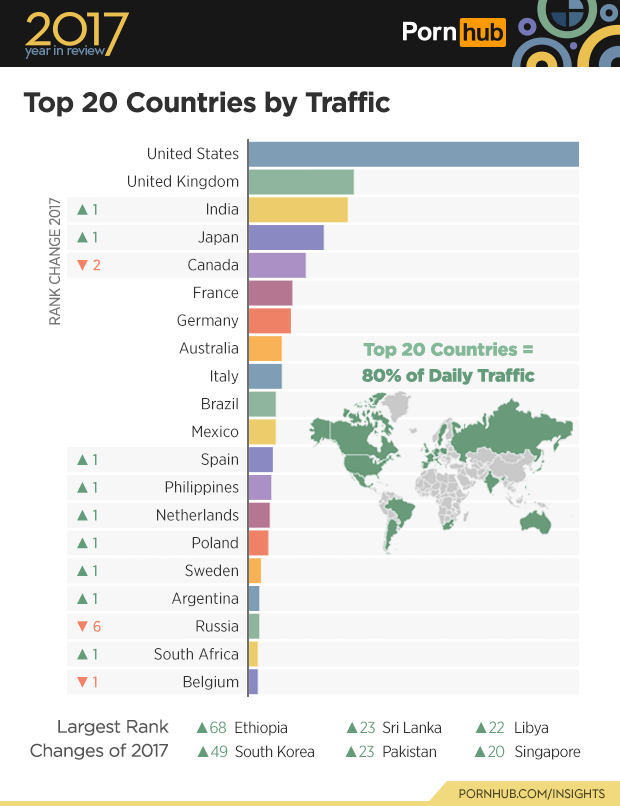 So what does this all mean? The answer really does depend on your country's law. However, here are some rules of thumb to guide you:

1) Never watch/stream porn in public areas.
In other words, get a room for maximum privacy.
2) Never share a link to the porn stream.
Yes, you found some good porn, but keep it to yourself. Sharing online porn links can lead you to be persecuted for distribution of pornographic material.
3) Never watch/stream porn without a VPN.
If you're really not sure on your country's pornographic laws, then it's best to put on a VPN before streaming anything. Your ISP keeps tabs on you and reports them to the authorities if they deem any activity as illegal. It's just like sex, you need a condom for accidental situations, still means you have to put it on every time right? In this case, your online condom is a VPN, and you might want to consider putting it on every time.
Unblocking Porn
You might find yourself in a place where the network has blocked "certain" sites from being accessed. This could be due to parental controls, network settings, or even government censorship. For example, Starbucks and McDonalds have blocked users from accessing porn sites from within their premises. But with a VPN, this is super easy to navigate around.





With a VPN, you have the option to connect to different servers from countries all around the world. Once you connect to a server located in a country other than yours, you will find that you can easily access that same site! Want to give it a try?

Sign up now by clicking the button below for unlimited access to both our recommended VPN and SmartDNS services. We offer a 100% money-back guarantee if you don't like the service. So there isn't any risk in giving it a go!


If you have any questions about anything else VPN related, we have an awesome support team waiting to answer any questions! Feel free to comment below, email, tweet, or hit us up on Facebook!
---
Related Posts
Starbucks, McDonalds, and other major chains have decided to block porn sites when using […]