One of the most popular uses of VPN and DNS services like ours, is to stream geographically restricted TV content from outside the supported region. On a computer, this is reasonably straight forward, you simply set up the DNS service or connect the VPN, open your web browser and off you go.
However, more and more customers are preferring to watch content on their mobile devices (Android phones, Apple iPhones) and tablets (Samsung tablets, Apple iPads). Unfortunately, a lot of these sites force you to use their official app in order to access them and this can make things a bit more complicated.
Many Android Apps are now region restricted and this requires you to use the Google Play store for the correct region, you can always get App files directly from 3rd party sites, but unless you are 100% sure of what you are doing, we really do not recommend this as you have no way of knowing if the file has been modified or altered in someway. Our recommendation is to only download apps from official stores, be it the Google Play Store or Samsung Galaxy Apps etc.
So, for example, if you are in United States, Australia, Cyprus or anywhere outside of UK and try to download the BBC iPlayer App from the Google PlayStore, this is the error message that you will be getting: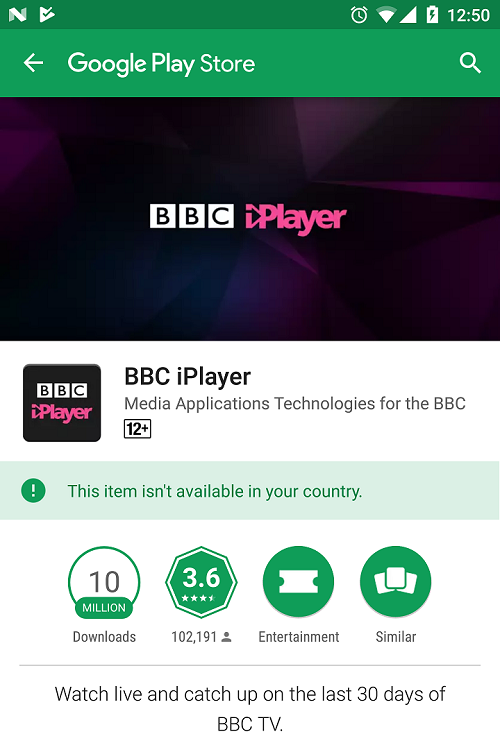 What Are Region Restricted Apps
Region restricted apps are sometime known as geo-blocked apps, region blocked apps, region locked apps but it basically boils down to the same meaning.
These are the apps that can only be downloaded or installed within the country that it is allowed to be used.
Why some TV websites and Apps are region restricted.
1) The most common reason is licensing: For example, the BBC's EastEnders is only licensed for viewing in the UK, the BBC have sold the license for other countries and therefore need to restrict access to it.

2) Service agreements with other TV providers: For example, SHOWTIME has the exclusive right to stream Season 2 of Billions, the network's drama series;  couple of hours earlier compared to other online and streaming platforms i.e.  Amazon Prime etc.

3) Restrictions set in place by the ISP due to unauthorized content:  i.e. explicit graphic contents, X-rated adult contents, blasphemous contents, political reasons etc.

4) Staged Apps rollouts that are location based: For example, the Pokemon Go Android app was initially only available for download in Japan, but was slowly rolled out to other countries.
How to download region restricted apps
There are a couple of ways to bypass these download restrictions, however they will all require you to have a VPN connection to one of the countries that has the app you are interested in. So, if you wanted to get the UK BBC app, you would need to use a UK VPN connection.
Don't have a VPN yet? You can start with our Free 3-Days Trial which gives you unlimited access to both our VPN and MyTelly services. Once you're done, you'll automatically receive our Free VPN service so you can continue to enjoy the fundamental security & privacy functions of our VPN.
Once you have the VPN connected, follow either of the methods below to access the region restricted apps of your choice:
Method 1 : Change the Google PlayStore region on your Android device
Method 2: Create a new Google Account on your Android device
If you require further clarification, please send an email to our support team at [email protected] and we'll try our best to assist you.
---
Related Posts
Amazon Ring: Does it ring any privacy bells? (pun intended) At first glance, […]