This page will guide you through switching your Amazon's Account region to one of your choice. Whilst we usually recommend the use of two different email addresses associated with two different Amazon regions, you might prefer to only use one email address for both the Amazon's USA and UK regions.
However, if you're looking to install Amazon's Instant Video app instead, kindly refer to the guide below:
Amazon Instant Video App Installation Guide for Android
To switch your Amazon's account region, follow the steps below.
(This guide will teach you to switch to Amazon USA from Amazon UK but the steps remain the same when switching back)
---
Step 1: Get Started
Log in to Amazon.com.

Once you've logged in to Amazon.com, hover your mouse over Your Account.
In the drop-down menu that appears, click on Manage your Content and Devices.

---
Step 2: Manage Your Content And Devices
Click on Settings and look for Country Settings.
At this point, the country should be displayed as United States.
Click on Change and select United Kingdom.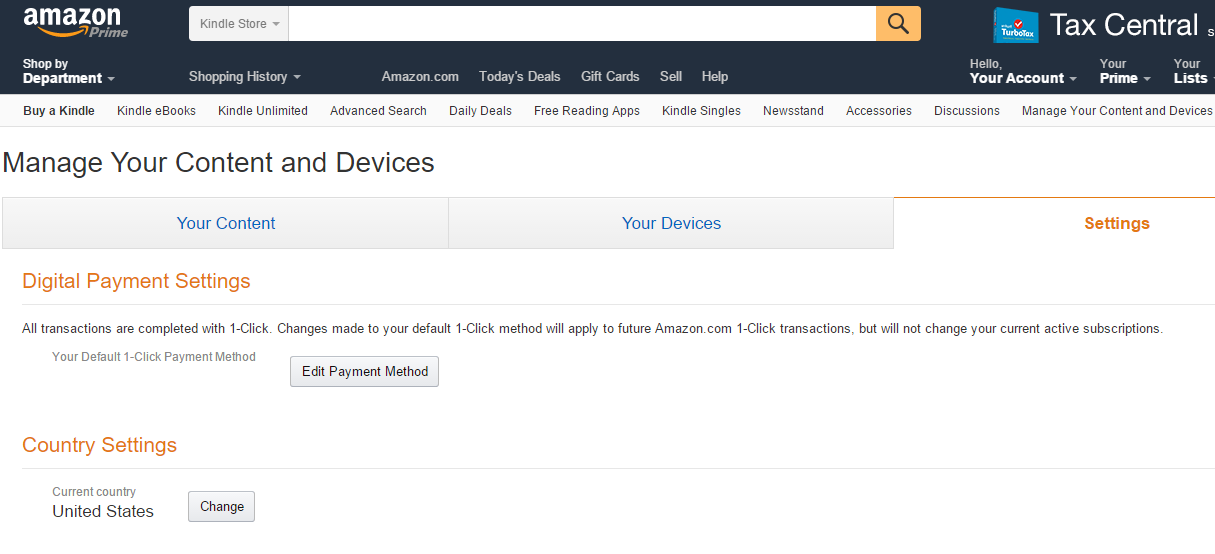 You will be prompted to enter a UK address into the fields below.
Simply enter any random UK address and click on Update.
Note: If you need help finding a random UK address, there's a great resource at Fake Name Generator that may be helpful.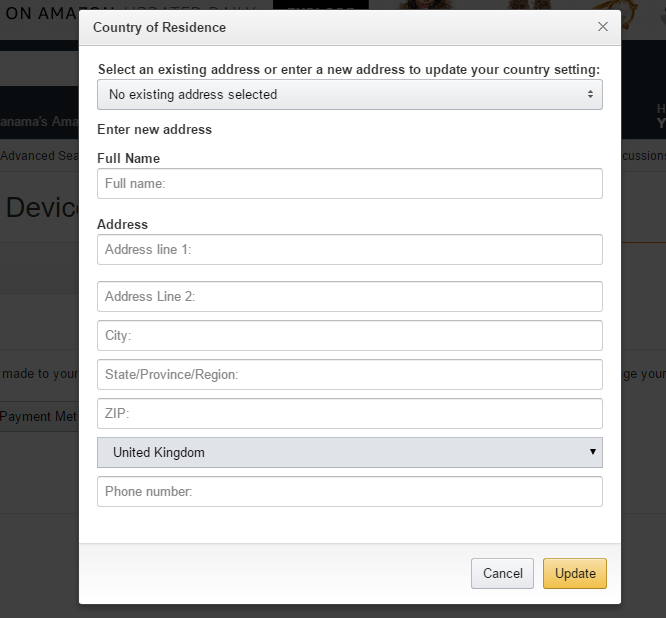 Once you have added the new UK address and saved the changes, you will be prompted with the banner shown in the image below.
Kindly click on Learn more about updating your default Kindle Store to Amazon.co.uk to proceed.

You will now be shown another screen which explains the changes that'll happen to your account if you switch your Amazon account region.
Click on Transfer your Kindle account to Amazon.co.uk to finalise the region change.

You should now notice that you have been automatically switched to Amazon.co.uk as seen in the image below.

Congratulations! You've now successfully switched your Amazon account region to the UK and you'll be able to shop on the UK Amazon store.
Don't forget to use it with My Private Network's VPN and MyTelly services to access your Amazon content where ever you are!
---
Any Problems?
Unfortunately it doesn't always go to plan!
If you have any problems or need further assistance, please email us at [email protected]. We'll get back to you as soon as possible and try to help.