First of all, please ensure our service is set up and working correctly on your computer.
Go to https://order.hbonow.com/
Click on the 'Start your 30-Day Free Trial' tab highlighted in blue:
You will then need to click on the 'See a list of all payment providers'.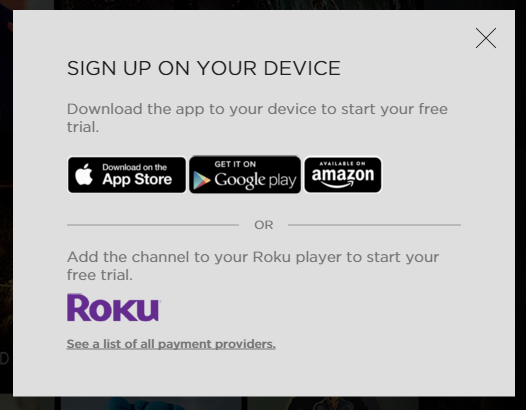 Please select your preferred payment provider or device.

Amazon
Subscribe from the app, then choose how you want to watch: on connected TVs, mobile devices and computers.
Download the app to your favorite Amazon device and start your introductory 30-day free trial instantly.
Android 
Download the

 

HBO NOW App

 

to your favorite Android device from Google Play.
To view content from the HBO GO mobile app, you will need an HBO subscription through a participating television provider that are listed above.

Apple 
Download the

 

HBO NOW app

 

from the Apple AppStore.
Subscribe via an in-app purchase using your Apple ID, or log in with credentials provided when subscribing through a participating broadband provider.
Create your HBO NOW profile and stream on iOS devices; iPad, iPhone, iPod Touch and Apple TV or on the web at HBONOW.com.
Optimum
In order to subscribe to HBO NOW through Optimum, you must reside in

 

CT, NY

 

or

 

NJ and have

 

Optimum as your broadband provider.
Please visit the Optimum website for the full instructions on how to set up your HBO account on either your mobile device / tablet, computer or TV.
Verizon 
Register for your My Verizon User ID, you'll use this to create your HBO NOWSM account.
Download HBO NOW to your phone or tablet.
Within the HBO NOW app, click "Already Subscribed?" then "Purchased HBO through a provider."
Choose Verizon and then enter your My Verizon User ID and password.
Create your HBO NOW username and password.
Roku
You will need to head over to the Roku Channel Store and add the HBO NOW channel to your Roku device.
Please note that you will need to ensure your Roku is connected to a network that is set up with our service for it to work.
For more details on the DNS setup for these devices, please refer to our instructions here:
MyTelly Setup instructions for Supported Devices
Once your details are verified, you should be greeted with a page confirming your HBO NOW subscription.
That's it! If you still have problems or require further assistance, please email us at [email protected], and we'll get back to you as soon as possible to assist you.