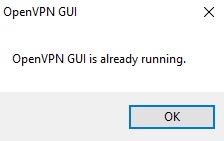 The message "OpenVPN GUI is already running" means that the OpenVPN application is already running and is now at your taskbar.
If you are unable to locate the red MPN icon on your taskbar, most likely it is hidden by Windows you can find it by clicking on the UP arrow on the right side of your taskbar. Click on it and you will see the list of programs running.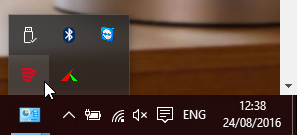 Right-click on the red MPN icon, choose a connection profile e.g. MPN GBR for UK etc. and click Connect.
The icon will turn yellow which indicates that it is connecting, and then hopefully turn green which indicates that you've successfully connected to our service.
Status: Connecting

Status: Connected

If you would like the icon to be visible on your taskbar by default, please follow the steps in the links below:
Windows 10 / Windows 8.1 / Windows 8
---
If you have any problems or need further assistance, please email us at [email protected]. We'll get back to you as soon as possible and try to help.