These instructions were based on Android 4.4.2, but the principles should be the same for all versions of Android from version 2.3.x onwards.
We also have instructions for setting up PPTP on;
PPTP VPN setup on Android 3.2 (Honeycomb)
PPTP VPN setup on Samsung Android 4.0 (Ice Cream Sandwich) Touchwiz
PPTP VPN setup for Android Lollipop (5.x) and Marshmallow (6.x)
To set up the connection with L2TP on your Android device, go into Settings and from the Wireless & Networks section, tap on More.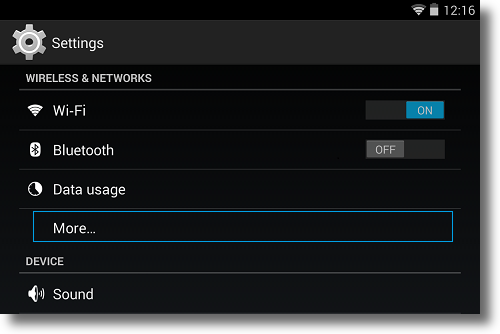 Select VPN.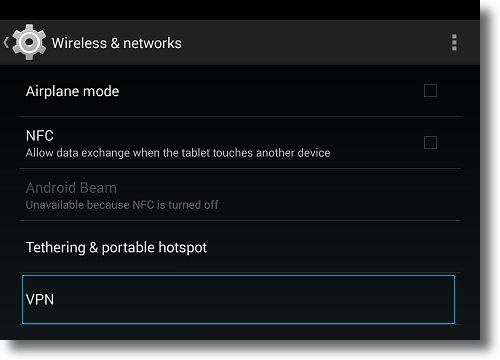 Tap on the ' +' sign to add VPN.

Now ensure the settings are as below: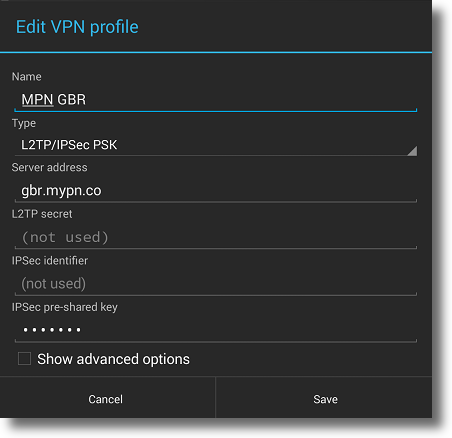 Name: MPN GBR
Type: L2TP/IPSec PSK
Server address: gbr.mypn.co
IPSec pre-shared key: private
Leave the other settings as it is and tap on Save to save the connection.
If you are trying to connect to our USA based service, please change
the description accordingly (ie MPN USA) and change the servername to be
usa.mypn.co
A full list of all our servers can be found in this Knowledge Base Article.
Tap on the VPN to connect.

Enter your My Private Network Username and Password. These are the details that you have registered with us.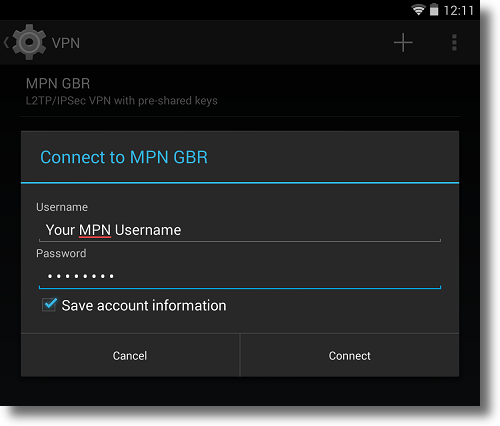 Tap on the Save account information check box and then Connect.

The VPN will now attempt to connect.
Once connected you will see a key logo in the top left hand corner. Once
you see that, you can go straight to the site or launch the TV apps of
your choice.
If you would like to disconnect from our VPN service, simply scroll down
the notification bar and tap on the VPN connection and then Disconnect.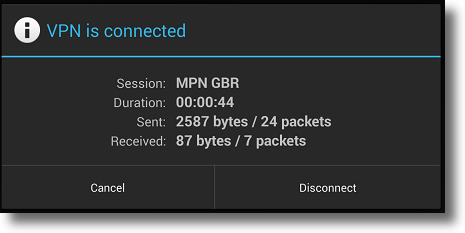 Unfortunately, it does not always go to plan!
If it does not connect, please try rebooting your Internet router
(if you are using one) and also completely power off your device and
then switch it back on.
If you continue to have problems or need any further information, please send us an email to
[email protected] and we will do our best to assist you.