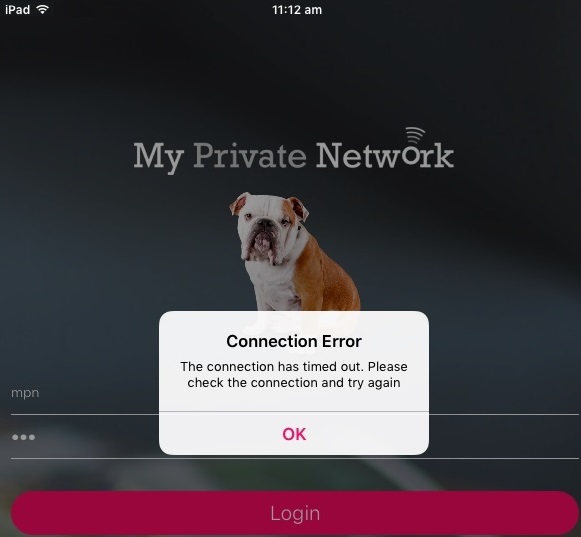 This error usually indicates a connection error on the network you're connected to.
In this case, please ensure that the Wifi you're connected to has an active Internet connection. Please note that even if your Wifi router is active and you can connect your device to it, it doesn't mean that your Internet connection is working without issue.
As shown in the image above, eventhough we're successfully connected to the Wifi router, we're unable to connect to the VPN as the router is not currently connected to the Internet. We're only receiving a local connection to the router.
To resolve this, please give the following suggestions a try to see if any of them resolve this issue:
1) Check the router to ensure that all the cables are properly plugged in and nothing is loose. Once everything is properly connected, restart both your router and your iOS device and try the VPN connection again.
2) Try changing the DNS settings on your iOS device to Google DNS. If you're not sure how to do this, please visit our knowledge base article in the link below:
3) Try connecting to a different Wifi network to see if you can login there. If a different network works fine, the issue originates from your Wifi router or network.
If you're still unable to use our app on the Wifi network you're connected to, please set up the IKEv2 connection manually instead and see if that works better for you.
---
If you encounter any further difficulties or if the guide above does not resolve the issue you're experiencing, please contact our technical support team at [email protected] and we'll do our best to assist further.