Note: Although the screenshots shown below were taken from Windows 7, the written instructions can also be used with Windows Vista.
---
OpenVPN on Windows 7 / Windows Vista automatically hides itself in the excess taskbar icons pop up menu.
Because of this, many people are not aware that the OpenVPN programme is running and constantly receive a pop up claiming that OpenVPN GUI is already running everytime they click on the OpenVPN icon.
To prevent any further confusion in this matter, we highly recommend that you make some minor changes to the taskbar arrangement so that the OpenVPN icon is always shown.
To make this change on a Windows 7 / Windows Vista computer, please follow the instructions below:
1) Click on the OpenVPN icon on your desktop and ensure that it is running.
2) Click on the White arrow icon at the bottom-right hand side of your screen to enlarge the excess icons menu as shown in the image below: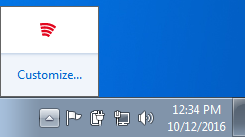 3) Once you see the OpenVPN icon, please left-click and hold the icon.
4) With the mouse left button held down, move the icon out of the pop up menu.

That's it!
Now every time OpenVPN is opened, you will see the OpenVPN icon on the bottom-right hand side of the taskbar.
---
Any Problems?
If you have any problems or can't get connected, please email us at [email protected]. We'll get back to you as soon as possible to assist you.