Welcome to My Private Network
We provide VPN services with servers in over 44 countries to protect your security and privacy, and allow you to bypass geographic restrictions.
Read more about how our VPN works here.
This page will guide you through disabling IPv6 on your Microsoft Windows 7 computer. You might want to do this if you're experiencing network issues with our VPN or MyTelly services even though everything else seems fine. 
Note: Having IPv6 enabled on your network will likely cause our services to stop working.
If you're looking to disable IPv6 on another version of Windows or on a Mac computer, kindly refer to one of our guides below instead.
Don't Have a VPN yet? give our Free Trial a go by clicking the button below for 3 full days of unlimited access to both our VPN and MyTelly services.

*3 DAY FREE TRIAL – NO CREDIT CARD REQUIRED
To disable IPv6 on your Windows 7 computer, follow the steps below.
---
Step 1: Get Started
Go to Start > Control Panel > Network and Internet.
In the Network and Internet window, click on Network and Sharing Center.
---
Step 2: Change Adapter Settings
In the Network and Sharing Center window, click on Change adapter settings as shown in the screen shot below.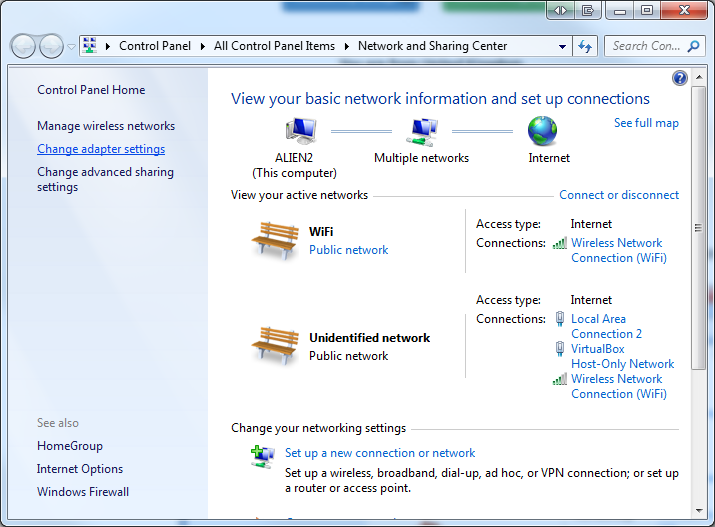 Right click on your active network adapter (Ethernet or Wi-Fi) and select Properties.
Note: If you're connected to the internet wirelessly, the corresponding adapter should be "Wi-Fi". However, if you're connected to the internet via a LAN cable instead, the corresponding adapter should be "Ethernet".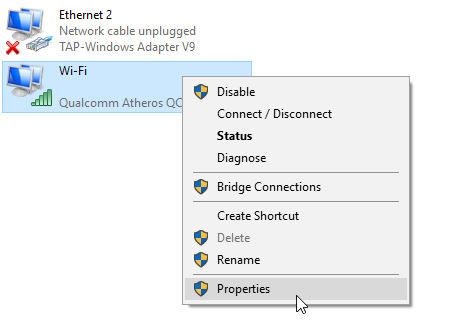 ---
Step 3: Disabling IPv6
In the Properties window, scroll down until you see Internet Protocol Version 6 (TCP/IPv6).
Un-tick the Internet Protocol Version 6 (TCP/IPv6) checkbox and click on OK to save the changes.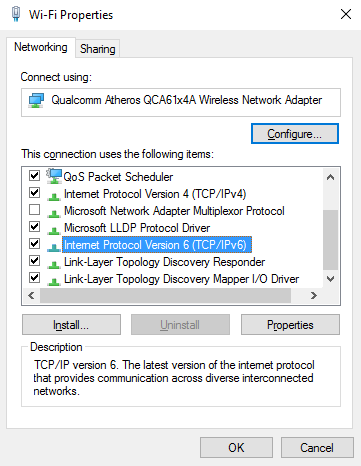 ---
Step 4: Restart Computer
Now that IPv6 has been disabled on your computer, kindly restart your computer and the internet router for the changes to take affect.
Once restarted, try connecting to our VPN again.
Note: If you're using our MyTelly service, kindly ensure that you have re-registered your IP address on our website.
---
Alternative Method: Disable IPv6 on Router
The steps above in this page explains how to directly disable IPv6 on your computer. However, if you're more tech-savvy, you could also just disable IPv6 on your router which will then affectively disable IPv6 across your entire network.
Note: Unfortunately, due to the huge variety of router brands out there, we couldn't make a guide for each router available on the market. Having said that, the steps to disable IPv6 should be roughly the same if you know your way around the router's admin panel.
---
Any Problems?
Unfortunately not everything goes according to plan.
If you experience any further difficulties, please don't hesitate to contact our technical support team at [email protected] and we'll do our best to assist further.