Welcome to My Private Network
We provide VPN services with servers in over 44 countries to protect your security and privacy, and allow you to bypass geographic restrictions.
Read more about how our VPN works here.
This page will guide you through finding your Android's device version. You might want to know which version of Android a specific phone or tablet is running, so you can get help with something or determine whether a feature is present.
If you're looking to find your Android's device IP address instead, kindly refer to the guide below.
How to find your Android device IP address
Don't Have a VPN yet? Give our Free Trial a go by clicking the button below for 3 full days of unlimited access to both our VPN and MyTelly services.

*3 DAY FREE TRIAL – NO CREDIT CARD REQUIRED
To find your Android's device version, follow the steps below.
(These instructions are made using an Android 6.0 (Marshmallow) device, but the principal should apply to all versions of Android devices.)
---
Step 1: Get Started
Open your Settings menu and tap on About phone/tablet.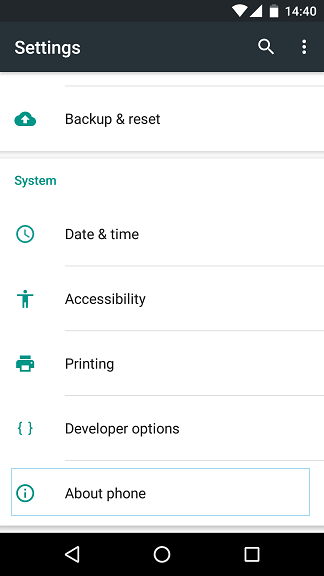 ---
Step 2: Your Android Device Version
You should now see the general information of your device, including the Android version.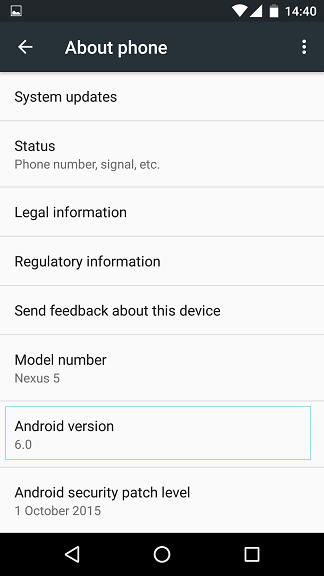 Congratulations! You have found your Android's device version.
Note: In this example, the Android device version is 6.0 (Marshmallow).
---
Not Sure What Your Android Version Is Called?
Every version number of Android also comes along with a sweet name, literally. Here's a list of versions available on Android with their corresponding names for your reference.
Android 7.0 : Nougat
Android 6.0 : Marshmallow
Android 5.0 – 5.1.1 : Lolipop
Android 4.4 – 4.4.4 : Kit Kat
Android 4.1 – 4.3.1 : Jelly Bean
Android 4.0 – 4.0.4 : Ice Cream Sandwich
Android 3.0 – 3.2.6 : Honeycomb
Android 2.3 – 2.3.7 : Gingerbread
Android 2.2 – 2.2.3 : Froyo
Android 2.0 – 2.1 : Eclair
Android 1.6 : Donut
Android 1.5 : Cupcake
---
Any Problems?
Unfortunately it doesn't always go to plan!
If you have any problems or need any help, please email us at [email protected]. We'll get back to you as soon as possible and try to help.