By default, the Tunnelblick SSL connection goes through UDP on port 1194 and
in most cases this works fine on most networks. However, if you are
having problems connecting through this default connection, you can try
connecting with the alternate ports that can be installed via the steps below:
First of all, please download file(s)  from the link below based on the country plan that you've subscribed to. i.e. MPN USA.OVPN for USA.
OpenVPN UDP 1194 Configuration files (Default Connection)
OpenVPN UDP 4096 Configuration files
OpenVPN TCP 1194 Configuration files
OpenVPN TCP 443 Configuration files
Note: Tunnelblick is an OpenVPN software that creates a SSL VPN connection to our servers. If you are not sure on which OpenVPN configuration file(s) you should use, please click Here.
Once you've downloaded the configuration file(s), please double click on it. i.e. MPN USA.ovpn The file should be saved on your Desktop or Downloads folder.
Important: If you've downloaded our Global configuration OR
the configuration file is not responding when you double clicked on it,
please ensure that Tunnelblick application is closed. If you can see
the Tunnelblick icon at the top right hand corner of your taskbar, click
on it, choose Quit Tunnelblick and try to install the configuration file again.
You can either choose to install the configuration for All Users which you've set up on your computer or select Only Me.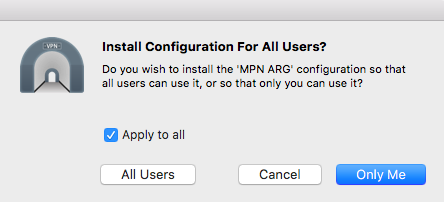 Note: If you're trying to install our Global configuration, you should have an additional option called Apply to all. Please tick on it.
It will now prompt you
to enter your local computer's credentials again, this is the
administration Username and Password on your Mac and not related to your
account with us and select OK.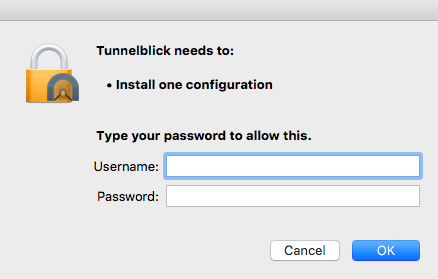 Once the Tunnelblick configuration Installation succeeded, you will be
able to see a notification popped up at the top right of your taskbar.

If you have any further problems, please send us an email to [email protected] and we will do our very best to assist you.