Setting up your VPN to connect to additional countries is dependent on which protocol you are using to access our service.
If you are using PPTP, L2TP or the IKEv2 protocol, simply create a new connection on your system using the correct server name for the target country, as shown in the table below. 
Note:If you are on our Free service, the servername that you need to use is fre.mypn.co and your connection will be rotated between different countries we have in our Free VPN cluster.

---
If you're using OpenVPN, y
ou can add the additional countries by using our reconfiguration tool.

On Windows 7, you should be able to find it in Start – All Programs – OpenVPN – Reconfigure MPN or if you are on (Windows 8, 8.1 or 10), press (WIndows + Q) and look for Reconfigure MPN.
If you do not have that installed , you can simply click here to download it.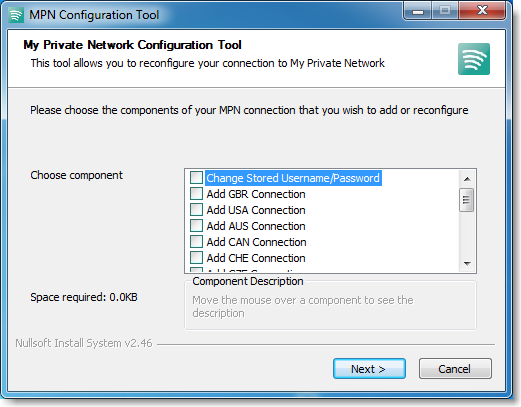 Run the file and you will see a window where you can add your connections. Once that is done, click on Next and then Close.
Give that a try and if you have any further problems, please send us an email to [email protected] and we will assist you further.